News Title
HORSE RIDE CHALLENGE DAILY BLOG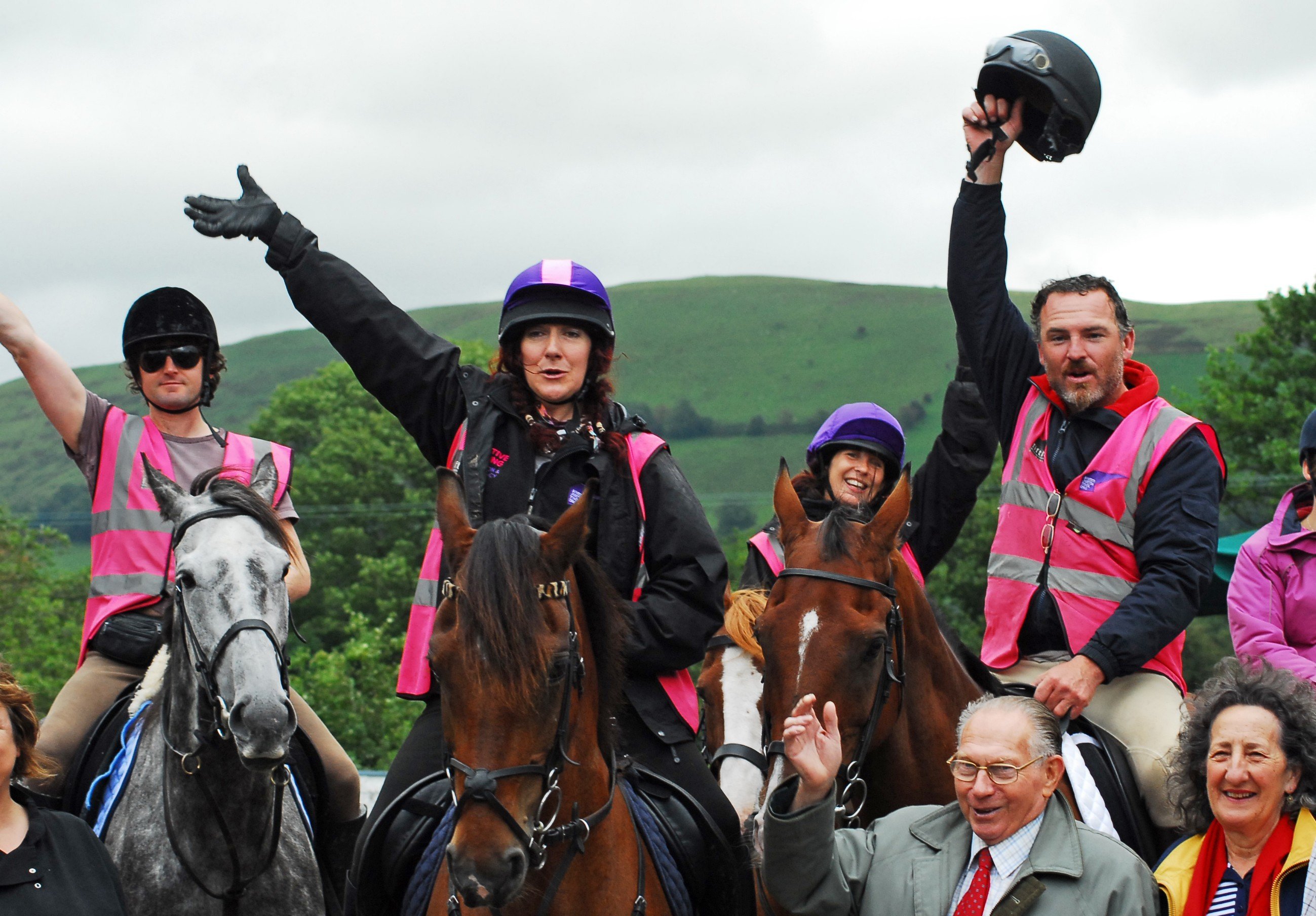 26th August 2008
Day 1 - 25/8/08

Well what a start! The welcome we received from both Bryn Jones and all at Bridlewood Riding Centre, as well as from Barbara Groves at Pennant Uchaf, Roman Road, Rhuallt, has been warm and generous. The horses were treated like kings at Bridlewood, and nothing was too much trouble for Bryn.A lovely crowd of friends and well-wishers gathered at Bridlewood to see us off on our first day, which at 14 or so miles was plenty to get us started.We arrive at Pennant Uchaf. Both horses and humans have been thoroughly spoilt. Top class accommodation and great stabling facilities have made our stay a joy. Looking forward to Barbara's full English in the morning. It'll be hard to leave this place.
As if all of this wasn't enough, tonight we were treated to a fantastic meal by local character and tireless charity fundraiser Esmor Davies. Great company and fantastic food at Faenol Fawr. Esmor's generosity knows no bounds, and his ongoing help with the trip is already proving invaluable. Also present was John Davies, another character, who stopped the traffic in his tractor for 5 full minutes just to talk to us, before making a generous contribution. There too was Liz Bundy, committee member of The Lions, Rhyl, who made a very generous donation to the cause. Many thanks to them.
To see photos of our first day's adventure, click here
Day 2 - 26/8/08
Another great day. A long ride today, some 24 miles over some hilly and rough terrain. Our guide for the morning was Alan Feely, whose local knowledge, generosity of time and pleasantness were a joy. The weather was kind, as it was yesterday - dry but not too warm, perfect for working horses. We were treated to some breathtaking views of the Vale of Clwyd from the slopes of Moel Arthur - surely the most beautiful valley in Wales? Discuss.
Our guides for the afternoon were local Young Farmers Caroline and Anna. Great young riders themselves, they led us safely and soundly to Maes y Groes farm, where John and Jean Worthington treated us to tea and the best scones in the history of the universe. We felt thoroughly spoilt.
Our very tired horses arrived at a very welcoming Aberduna Farm, where Richie Jones had prepared some great stabling for them.
Tonight we humans are being very warmly accommodated by Nick and Sheri Bankes at Ty Ucha'r Llan, Cilcain. The woodburner has been lit (God bless the Welsh summer), and we're about to sit down to a lovely home-cooked meal. All is well, and we're very grateful to them both.
To see photos of our second day's adventure, click here

Day 3 - 27/8/08
After a long day yesterday, everyone was a little sluggish this morning, on what proved to be an unexpectedly tough day for the horses. After saying our farewells to the wonderful Nick & Sheri Bankes, we headed for Aberduna Farm where our horses were waiting faithfully and hungrily. They all seem to be sound, if a little grouchy this morning. We eventually head off at 11:15, over an hour late. We reach our guide for the day, Tim Stratton, at 12:00. He'd been waiting for 90 minutes, and was very understanding.
First stop was Hideaways Dutch Pancake House at Gweryd Lakes. A warm welcome and great pancakes. Amazing Dutch syrup too. Big thanks to Jeanette and Annemieke. Also there were Rhys Meirion and his family, good friends and great contributors to the cause. Rhys will be singing at the Pontrhydfendigaid concert next Thursday, and his son Osian will be busy collecting money at his Sunday School trip amongst other places. Well done Osian. Esmor Davies, who arranged this stop off, is continuing to prove invaluable through his tireless help in all aspects of this venture.
We make another welcome stop in Pentrecelyn for tea and biscuits, and are warmly welcomed by youngsters Angharad, Macsen, Amelia and Erin. See photos.
The final leg of today's journeys was longer than expected, not least because of a blocked bridleway. Lots of road work, and the horses show signs of tiredness for the first time. An extra guide, Iwan, helps to guide us some of the way from the lakes. Many thanks. Happily, we arrive at Cae Crwn farm, home of Brian and Margaret Reed, to perfect stabling facilities and our B&B for the night. The warm welcome and all seems better. The horses are all in one piece, but we need to keep a close eye. A good night's rest, before another long day tomorrow.
Later, Steffan (staying with Chris at The Crown Hotel, Llandegla) entertained everybody by locking himself out of his room and having to make the half naked walk of shame from his chalet across the road to the bar. We, of course, were very sympathetic, and didn't laugh once. Apparently, the was no spare key, and Steff ended up putting his shoulder through the door, bringing the whole frame off with it. No word of a lie. We can't take that boy anywhere.
To see photos of our 3rd day's adventure, click here
Day 4 - 28/8/08
A great day today, couldn't have been better. First thing, we're visited by Rosemary, a lovely lady who makes a very generous donation. A very good start. The weather is set fair, and we leave Cae Crwn farm on time! We're getting the hang of this now. We're accompanied by Sue, our guide for the day, on her horse Flair. They turn out to be quietly efficient and very good company.
The horses look well rested after their tough day yesterday, and seem to be settling into the routine of daily work. An hour and a half in, we reach Glyndyfrdwy, and are greeted by a steam train leaving the station. Fantastic. We strike up a conversation with Eric, Enid, Sion and Dylan who live next to the station, and are promptly treated to a cup of tea. Lovely people.
Esmor appears with fruit for humans and horses alike. It's good to see him, and to hear his stories of the money he's been collecting. He's a gem.
Over another mountain, through many more gates (we're up to over 100 of them - and to Brychan's unbridled excitement, one of which required the use his brand new wire cutters), and we are very warmly welcomed at the farm of John and Gwen Bonc. I kid you not. Jane, whose daughter will ride with us, very generously offers to wash all our dirty and sweat-soaked numnahs. This is a godsend, it's been a real problem for us. Thank you Jane. Esmor and his wife Irene, who have been helping to guide us today, swing open the back of their Range Rover and wheel out what they told us would be a packed lunch. Turns out to be a banquet, see pic. Fantastic people. We'll miss Esmor when we drift away from North Wales. The view from the yard of Bonc farm is stunning. The sun is shining. Horses and humans stuff their faces. It really doesn't get any better than this.
We leave Bonc farm accompanied by 3 young riders - Emily, Helen, and Hannah, who is astride Barney - a 34 year old (!) pony who keeps up all the way to Llanarmon. Astonishingly, so does Mena, Helen's mum, to keep an eye on Hannah (who is only 7) and Barney (who could almost be her grandfather). That woman can power walk! The kids are a delight - competent riders and very polite. Not only that, they have collected between them £85 in sponsorship. Well done girls!
On a misty, windswept and remote spot on Bryn Du, we encounter a solitary parked 4x4. Out steps Steven Williams, who has travelled all the way from Aberystwyth just to meet us. Turns out he was brought up in this area, and his contribution is generous.
We arrive at Ty Hwnt i'r Afon farm, where the horses will rest tonight. We're warmly welcomed by Rheinallt Hughes and his family, and put the horses to bed. It's been a less gruelling day for them than yesterday, and apart from the odd battle-scar, they all look well.
Tonight we're staying at The Hand, Llanarmon. Fantastic pub. I know I keep re-using "warm welcome", but it's never been truer than it is here. Great rooms, great food, and it seems like half the area has turned out to greet us and drink merrily with us - which is why this blog must end.
To see pictures of our 4th day's adventure, click here
Day 5 - 29/8/08
Day 5 - 29/08/08
Very tough day today. Having bidden a very fond farewell to The Hand Llanarmon (that place is just fantastic), we left the stables at Tu Hwnt i'r Afon farm (thank you Rheinallt Hughes) an hour late. We had no guide on horseback today, and despite Esmor's best efforts to guide us from his Range Rover, we got very lost and added several hard road miles to what was already a tough day for the horses.
We belatedly made a welcome stop at Ty Nant farm (thank you Elinor), then pressed on through forestry and got lost again before eventually reaching Ty Llwyd farm at Lake Vyrnwy. Lovely welcome there. The exhausted horses (8 hours since leaving Tu Hwnt i'r Afon) had worn their back shoes down to nothing in just 5 days. They were tended to by world champion farrier Jim Blurton, who shod 4 horses in what seemed to be about half an hour. Amazing, and he wouldn't take a penny. Star man. All the horses are also developing sores around their mouths. This is no pony trek.
With the horses stabled, we eventually (very late) reach Penybont Fawr, to a fantastically warm welcome - you all know who you are - great accommodation, great company, great pub, good friends, can't wait to come back. Thank you all. Also tonight we bade farewell to Esmor Davies, who has been so instrumental in making our first week through North Wales such a success. Diolch o galon Esmor. I suspect we'll see him again though....
To see pictures of our 5th day's adventure, click here
Day 6 - 30/08/08
Great day today. After not enough sleep and a great cooked breakfast (thanks again to all at Penybont Fawr), we headed for the stables. The horses were well rested, and we left Ty Llwyd Farm (fantastic welcome and great cup of tea - thank you!) on time today, which was great after yesterday's problems.
No getting lost today - we were guided by Sheena Carter, who did a great job, especially when she took us on a short detour where we could let the horses have a proper gallop. Good to let them go sometimes.
We arrived in very good time at Sheena's Ty Isa farm, where we will be staying the night. A very warm welcome, and thanks Sheena for agreeing to wash our many sweat-soaked numnahs. The sun came out, we washed the horses down, and for the first time during this trip we turned 4 of the horses out to a field for the night. They've been couped up for a while, and it was great to see them canter off in a gang and roll around. We just hope that Caio, Otis, Felix and Ben will be equally happy to be caught in the morning....
You can view photos of our 6th day's adventure here
Informative, incisive, witty and hilarious captions have now been added. No really. 
 Day 7 - 31/08/08
Apologies for the delay in posting these blogs. Internet access in the heart of mid Wales is a rarity.
A mixture of good and bad today. Shan Cothi, Steff and Chris had stayed at the Cann Office Hotel overnight, where Eirlys very kindly reduced the bill and donated to the charity. Thank you.
Back at Ty Isa, the horses who had been turned out for the night came cantering in for their breakfast, which was a relief to Shan Cothi - Caio can be difficult to catch when the mood takes him. We left equipped with clean numnahs and a packed lunch, courtesy of Sheena Carter, who also contributed to the cause by reducing her bill. Thanks for everything Sheena.
Joining us in the morning were Sheena herself and her friend Jo, who guided us for the first hour. Our lunchtime stop was at Llwyn Celyn Farm, who put us up at very short notice. The weather had frowned upon us today for the first time in a week (very good going this summer), and Huw's cowshed proved to be the perfect sheltering place for the horses. Thank you.
Our guide for the afternoon was Michael Mosse, to took us over Craig yr Hwch Mountain down to Dylife. The views from the mountain were breathtaking, absolutely stunning. It seemed that half of Wales was visible from there. Michael's local knowledge was extensive, making the ride one of the best so far.
Until, that is, disaster struck. Ben, Branwen's horse, pulled up lame. He had over-reached and cut his back leg. Then Sandy, Shan Jones' mare (and she can be a mare at the best of times), decided to dance sideways down a craggy bit of cliff. She's cut herself quite badly, as you can see in the picture. She shows no signs of lameness however, and we're fairly confident that she'll be fine to continue. Ben is a greater cause for concern. His extreme lameness indicates that he may have done some more serious damage than just cut his leg. He's been turned out (to reduce swelling and stiffness), and Branwen (The Equine Oracle) will assess his condition in the morning.
The horses have been accommodated at very short notice by Graham Wilson at Blaen Twymyn Farm, for whom nothing was too much trouble. Nice tea and cakes too. Thank you Graham.
Steff is leaving us for 2 days to return to his acting day job, so we're joined by Chris' wife Catrin, who will ride Sox tomorrow. Good luck....
To see pictures of our 7th day's adventure, click here
Day 8 - 01/09/08
Just goes to show, we know nothing. Kate, from Hafren Veterinary Group, arrived promptly to Blaen Twymyn and examined the horses. Ben, who was our biggest cause for concern, was less seriously hurt than we thought. A few days off and a bute injection (a painkiller for horses), and he should be OK. Sandy, on the other hand, who we thought would be OK, turns out to have punctured the suspensory tendon sheath. End of the road for her. Sian Jones and Branwen are gutted.
Our spirits are lifted as we're visited by Ivy, and Tom and Betty (apologies if these names aren't quite correct), all of whom make generous contributions.Thank you.
The other horses are given a clean bill of health by Kate, and so we set off from Blaen Twymyn (thank you Graham Wilson, you're a star) not 6 strong as usual, but as a gang of 4. It seems very strange at first, but the horses soon settle into the new arrangement. Catrin Brooks, riding instead of Steff today, is loving Sox. We have no guide today, and in Steff's absence, Brychan is navigating. We get very lost in Hafren forest, which in fairness to Brychan was nigh on impossible to navigate, and he did a great job of getting us out of there. All in all, what we were told would be a 10 mile ride turned out to be about 25 miles, a hard day for the horses since we hadn't scheduled a lunchtime stop for them. As usual though, they ploughed of unfussily and without complaint.
We eventually arrived at Carreg y Bwla, to the great stabling facilites of Betty Hughes. Ben and Sandy had already been boxed there. Dai Jones (of Connoly's Red Mills horse feeds) very kindly drove up from Carmarthen to pick up Sandy, and take her back south to be treated for her injury. Star man Dai. There's an outside chance we may see her again before the trip is out. Sian Jones' fingers, legs and toes are tightly crossed.
We settle in to a welcoming Blue Bell in Llangurig, to lick our wounds.
To see pictures of our 8th day's adventure, click here
Day 9 - 02/09/08
The Blue bell in Llangurig treated us well, and contributed generously to the cause. Lovely food too. Big thanks.
The horses were well rested up at Carreg-y-Bwla, and Betty was a real character. Eirian - Shan Cothi's brother - who is a farrier, arrived promptly this morning to shoe Felix, whose shoes were hanging by a thread. It was amazing to watch this craftsman create his own horseshoes, rather than buy them in as most farriers do nowadays. Felix was perfectly shod, and Eirian wouldn't take a penny. Diolch o galon.
The news on Sandy, Sian Jones' mare, is sadly not as good as it could be. Her injury shows signs of infection, and she will not be returning to the horse ride challenge.
Our guide for the day was Paul, who had previously ridden his faithful cob Alex from Llangurig to the summit of Snowdon, in aid of the air ambulance service. A kindred spirit then. Paul's experience had made him utterly fearless, which became obvious during the ride. Brychan's vertigo was tested to the limit early in the ride, with what seemed a near vertical ascent of the mountain, whilst crossing the waterfall near Rhaeadr was a drama worthy of primetime TV. The photos tell the story. This was a great ride, and Paul was great company.
The horses were turned out tonight at Noyadd Fawr farm for some well-earned grazing, whilst we humans are enjoying the opulence and splendour of the Elan Valley Hotel. Really nice place, which has internet access! Which means that this day 9 blog is the third I've written tonight. I hope you bloody appreciate it.
Steff has returned, courtesy of the actress Beth Robert, with whom he was working. Beth is very kindly taking Jeff (our support vehicle driver) home to Cardiff. Yes, this is Jeff's last day, and he will be sorely missed. He's been an absolute star, doing all our dirty jobs without complaint. However, we are buoyed by the arrival of HUBERT, our new driver, who promises to live up to the standard that has been so highly set. We shall see.
Later tonight at the hotel, we befriend the chef, Jane. She's a horsewoman, and we mention that Sian Jones (whose horse Sandy is now out of action) is stuck for a ride. Jane is brilliant, and finds us a horse in no time. Sian Jones is beside herself, and Jane will be her heroine forever.
To see pictures of our 9th day's adventure, click here
Day 10 - 03/09/08
'The Tempest'
We left the lovely Elan Valley Hotel in warm sunshine, and found the horses dozing quietly in the field at Noyadd Farm, home of John Morgan. Hubert and Brychan collected Celt (Sian Jones' horse for the day) from Mark at Treheslog Farm. Lovely horse, thank you Mark.
We left on time at 10 a.m. guided by Ifor Jones and Catherine Morgan Shan's sister-in-law, knowing that we had a long journey ahead. We passed the stunning Claerwen Dam before traversing the lovely Caban Coch Reservoir, and the lovely sunshine gave no indication of the tempestuous weather that was about to befall us.
We continued along a stony track that was to wind for a good 10 miles along the side of Claerwen Reservoir. And then it struck. To call it wind and rain does no justice to the storm which we endured today. Brychan and I were in agreement (and we've seen some weather whilst training our horses for point to point seasons in the depth of winter) that it was the worst in which we'd ever ridden. The horizontal rain and hail seemed to be getting whipped up from the lake beside us, stinging our red-raw cheeks. Every inch of clothing and skin were soaked through, riding boots full of water, saddles soaking and cold beneath us. The horses became wild, cantankerous, uncontrollable beasts who would not listen to a single command, and the ride became dangerous at times. For the first time, this didn't feel like a holiday, it wasn't pleasurable. This was work, this was hard, this was a challenge.
We arrived, after what seemed like an age, at our mid-way resting point, Claerwen Farm. Glyndwr welcomed us warmly, and we sheltered from the biblical storm for an hour, before ploughing on to Dol Ebolion farm, home of Non Jones, on the outskirts of Pontrhydfendigaid. The horses were amply accommodated there, and after a very welcome whisky, wine and sandwich reception at the farm, we humans (by now mildly hypothermic) trudged and squelched our way to the lovely Black Lion Hotel to lick our wounds.
To see pictures of our 10th day's adventure, click here
(You won't see any pictures of 'The Tempest' - the camera, which was in a leather bum-bag, beneath a T-shirt, a jacket and a wax overcoat became sodden and shorted out)
Day 11 - 04/09/08
A day off for the horses in Pontrhydfendigaid, while the humans look forward to the evening concert at the pavilion.
Yesterday had been a hard day for the horses, and this seemed to be reflected in their condition today. They looked thinner, less proud, less well than yesterday. This was probably partly caused by their lack of work today, which has left their muscles looking a little limp. Getting back to work tomorrow should help bring them back, but we'll have to keep an eye on them. Catherine Morgan (Shan's sister-in-law), who had accompanied us yesterday on her horse Capten, had very kindly offered him to Sian Jones, who was once again short of a ride. Sian almost bit her hand off. Capten is a great little horse, and we are very greatful.
Our day off proved to be anything but - the concert preparation were hectic, and frankly it felt like a much busier day than when we were on horseback. The concert, however, was a roaring success, absolutely fantastic. The people of Pontrhydfendigaid (you all know who you are) have been fantastic and have helped us in more ways than this blog can mention. The whole evening couldn't have gone any better, and a huge amount of money was raised for the charity - mission accomplished.
To see pictures of our 11th day's adventure, click here
Day 12 - 05/09/08
We reluctantly left the Black Lion Hotel in Pontrhydfendigaid where affable landlord Dominic had looked after us so well. Lovely rooms too.
Up at Dol Ebolion we found the horses still looking lacklustre and a little out of condition. We decide to up their food rations. Today's ride to Tregaron would be short, which was probably a good thing.
We waved goodbye to Dol Ebolion and Non Jones, for whom nothing had been too much trouble for the 2 days that we were around. Indeed, Non's accommodating nature proved a little too much for our support vehicle driver Hubert, whose whisky hangover was considerable. Good job he wasn't driving anywhere til after lunch.
Our guides for the short hop to Tregaron were Non himself and Mary Jones, wife of Ifor. Shan had flippantly mentioned at the end of the previous night's concert that Welsh cakes along the route would be nice. Davey John and his wife duly obliged as we were invited to stop at Allt Ddu farm. Great Welsh cakes and a lovely cup of tea. Thank you! Immaculate farmyard too.
Barely 500 yards up the lane, we were flagged down by what appeared to be a deranged woman in a ridiculous hat. We were half right, the hat was ridiculous (which Felix found very tasty, see pics), but it turned out to be Mary Jones's sister Averina, armed with yet more Welsh cakes and, fantastically, a bottle of sherry. Much merriment ensued.
The horses were warmly welcomed at 'Huw Bwtchwr's farm, while we humans retired to the Talbot Inn, where Jess (Brychan and Chris's old band) surprised everybody by staying sober enough to remember and perform some sort of approximation of their musical past. Much alcohol was consumed by all, which is probably why everyone enjoyed the music so much. Amy Wadge, on the other hand (who opened the evening) was fantastic. More importantly, £700 was raised for the cause. A mere fraction of what was raised by Shan's concert the previous night, but hey, we ain't all as blessed as she.
To see pictures of our 12th day's adventure, click here
Day 13 - 06/09/08
We left Huw Bwtchwr's farm (great welcome and stabling - thank you) in the company of Morlais and Idris, our guides for the 16 mile journey from Tregaron to Ffarmers (Shan's home town...well, village). The horses looked a little better today - getting back into work after their day off had perked them up, though their mouths are still sore.
The send-off at tregaron was fantastic - lovely crowd, lovely port, great people. A short hop then to Llanddewi Brefi, whose infamy inspired a photo of Brychan by the road sign - hit the link below. The welcome was such in the village that we thought we'd never get through - 3 stops in what is a small village. Much port, whisky, tea, coffee and Welsh cakes were consumed, and much merriment ensued. We enjoyed Llanddewi Brefi.
Our guides Morlais and Idris did a fantastic job of guiding us over some very boggy hills, and got us to the church on time - i.e. Ffarmers Show, where the welcome, in Shan's home village, was as warm as you'd expect - and then some more.
We stabled for the night at Troedybryn Farm, home of Elfyn Davies and Dr Rowena Matthews. Great stabling, fantastic welcome, lovely accommodation, irresistible log fire, great breakfast, lovely people. Joan (Shan's mum) made cawl. It tasted like 'coming home'.
Ffarmers was just a joy, the whole experience. We settled down, tired and contented in front of a log fire, for an early night.
To see pictures of our 13th day's adventure, click here
Day 14 - 07/09/08
We awoke well-rested, and were treated to a fantastic breakfast by Elfyn and Rowena. We found the horses looking better too, their conditioning beginning to return.
We went down to the 10:30 meet in the village for today's sponsored ride, and what a turn-out. The whole village was there to greet us, and more than 50 horses joined us for the day (including Helen and Katie who brought their horses all the way from Ogmore - well done!). Y Parchedig Roger Thomas said a prayer for us, and Ben of the Drovers Arms plied us with port to send us on our way. A great start to the day.
Not so great shortly afterwards though as Ben, Br
A little way up the mountain, and we were stopped again and forced to drink whisky by Gilmor, Ann and Eirlys Llwynceilog. Under duress, we agreed. Thank you.
This was a great ride, if a little fraught for Steff on Sox. We were very well guided by Eirian (huntsman) and Huw of Cwrt y Cadno Hunt, and indeed the ride felt very much like a hunt (without hounds obviously). The horses got very excited, and there was no hanging about. Good, hot, sweaty fun.
We stopped off with Eddie and Bunty at the Neuadd Arms in Cilycwm, where we were very warmly welcomed and treated to a buffet, and the horses filled their bellies with garden grass. Fantastic. This day has been very well organised, thank you all.
A short hop then into Llandovery, where we were greeted by a warm crowd which included the mayor and mayoress no less. A lovely end to a great ride.
We stabled the horses with champion Welsh cob breeders Haydn and Angie Hudson, for whom nothing was too much trouble. Great stables, lovely people.
We humans stayed, rather bizarrely, in the medical building at Llandovery college (big thank you to them for putting us up). Brychan and Sian Jones had a ward room to themselves, while Chris lorded it in a private room reserved for particularly unwell people. Best place for him.
We bade farewell to Hubert, who drove us around by day, got drunk with us by night, and got very drunk with Non Jones in Pontrhydfendigaid. Hubert's been a star, as we had expected. Diolch o galon. Welcome then to John Barrie, our driver for week 3, who will manfully attempt to fill Hubert's boots. We're sure he's up to the job, apart from the drinking, possibly.
To see pictures of our 14th day's adventure, click here
Day 15 - 08/09/08
This morning we were treated to breakfast in the Great Hall at Llandovery College, which looks like a dead ringer for Hogwarts. Indeed, a couple of the pupils told us that Llandovery College came very close to being selected as the filming location for the famous Harry Potter school. All at the college welcomed us warmly, and we're very grateful.
Back at the stables, Eirian (Shan's brother and master-craftsman farrier) was here again, toiling away for no money. That guy's been a star, and it's been very educational to watch him work.
The stables had been great, and Haydn's generosity boundless. Thank you muchly.
A short hop today, just 5 miles from Llandovery to Llangadog, which is probably a good thing after yesterday's full-on ride. Good for Ben too, who pulled up lame yesterday, though the vet was happy enough to let him continue.
The horses were stabled up at Cefngornodd, courtesy of Jamie Card. Lovely stables, thank you. Also this evening, the horses were treated to a free equine massage, courtesy of Cate Langley from Endurossage. We humans, deeply envious of this special treatment, retired to The Red Lion Llangadog. We need envy no longer. Kevin And Cindy Skone have really created something special here. The welcome is warm, the rooms are stunning, and the food is excellent: www.redlioncoachinginn.co.uk
To see pictures of our 15th day's adventure, click here
Day 16 - 09/09/08
The breakfast at The Red Lion Llangadog was amazing, the salubrious rooms were given free of charge, and we were charged ridiculously low prices for our restaurant meals. Kevin and Cindy have treated us fantastically, and this will be a hard place to leave. I, for one, will definitely be back.
We also discovered today that The Hand Llanarmon (another place we really enjoyed) has waived a room bill which Esmor Davies forgot to pay, and invited him to donate the money to the charity instead. Great pub, great people.
Up at Cefngornodd, the horses looked well rested thanks again Jamie Card. Their condition continues to improve, though they still don't look as good as they did in week one. They look fit, but just a little too lean. They could really do with a few days grazing, but that will have to wait - they still have a job to do.
A few quick interviews with Wedi 7, and we set off into Llangadog for a quick visit to the primary school, where the enthusiastic kids welcomed us warmly. Up and over a misty Black Mountain to Brynaman, and the change in landscape was immediate and familiar - this was now South Wales - terraces and our first kebab shop since leaving Talacre Beach.
After a brief visit to Brynaman Community Centre for tea & Welsh cakes, we headed for the stables at Ystyradowen. Eric, Ian, Teifion, Melanie, Daniel, Alison, Dafydd Iwan, Irene and others welcomed us very warmly. These people proved to be extremely kind and generous. Eric helped to groom our horses, they helped to arrange our luchtime stop off for tomorrow, and they plied us with extra haylage for our onward journey. Great people.
We humans retired to a lovely warm welcome down the road at the Rose and Crown, a really nice place to spend the night. Good food, lovely rooms, nice people.
To see pictures of our 16th day's adventure, click here
Apologies once again for the tardiness of the following entries. It's been a busy few days! 
Day 17 - 10/09/08
After a lovely breakfast at the Rose & Crown (nice little place), we headed up to the stables to find the horses looking well rested. Their condition continues to improve since their day off last week, and apart from some slightly sore mouths, they are completely sound. We've also noticed, over the past week, a real lift in their fitness levels. The 25 mile rides that were exhausting them in the first week are now a walk in the park - they're still bouncing when we put them into their stables for the night. It's great to see.
Eric, Ian and the family at the farm have been very kind, not only providing great stabling but also providing us with hay for use at some forthcoming stables where none is being provided. Great people.
We set off for Ysgol Gyfun Ystalyfera, where a yard full of kids welcomed us very enthusiastically. Shan & Steff chatted with some old friends (Shan used to teach here, and Steff was a pupil - not at the same time of course), while the horses enjoyed all the attention and especially the Polos.
From there, up and over a very misty Black Mountain. When the mist cleared though, the view down to Swansea was lovely. We stopped off with Jethro at Coed Cae Mawrfarm. It was nice to have a sunny afternoon, and Jethro's yard proved to be a lovely place for a picnic. In fact, Branwen fell asleep in the scoop of Jethro's tractor. Unfortunately, this blogger's camera wasn't quick enough to capture the moment. Big thanks to Jethro.
From there, we headed for our stables at Cae Newydd Farm, home of Keith Thomas and his family. Now we've seen some places on this trip, but nothing could have prepared us for the welcome we received here. Having put the horses to bed in their ample stabling, we were invited to the house where Val, amongst others had prepared what amounted to a banquet, and a house full of friends, relatives and neighbours were waiting to welcome us. These were incredibly warm, generous people, full of character, who would happily give you the shirts off their backs, and they seemed to us to be the epitome of Welshness. We have landed on our feet here, especially since the horses are here for 2 nights (day off tomorrow). If Val had had her way, we'd still be there drinking all her whisky and port, and Shan would be hanging.
We were eventually able to get away (much as it would have been great fun to stay) to the Shoreline guest house down in Mumbles, a pleasant and quiet little place where we got a great 2 night deal. We settled in, full of food and booze, looking forward to our day off tomorrow.
To see pictures of our 17th day's adventure, click here
Day 18 - 11/09/08
A well-earned day off for the horses today, so we turned them out to the field up at Cae Newydd. It's really interesting to see how tightly knit their little gang has become. We took out the first three, expecting them to canter off as usual. But there they stood, awaiting the arrival of the others, who were calling continuously because they'd been left behind. When they were turned out, all six cantered off, and much frolicking and rolling around ensued. These horses are gonna miss each other when it's over.
Stright down then to Morgans Hotel, where Shan (who took off her outer horse garb at the steps of the hotel - see pics) was being met by a Daily Express reporter. This turned out to be an in-depth interview, which took Shan right back to the most difficult periods of the last 2 years. She cried, she laughed, she cried again. And again. The reporter had been lovely, the process cathartic, but Shan was emotionally exhausted. Fortunately, the rest of the day was to provide nothing but fun.
Firstly, a lunchtime meeting with rugby legend Clive Rowlands, who contributed very, very generously to the cause. He's an old friend of Shan's, and she was very glad of his company. Thank you Clive.
Secondly, we'd struck lucky the previous evening at Cae Newydd. Michael, a friend of the family, runs a business down at Swansea Marina - something to do with yacht maintenance I think. He had promised, possibly idly as far as we knew, to take us out for a spin in a 'speedboat'. True to his word, he called and said it was on for 4pm. The speedboat turned out to be a £500,000 yacht (well, it looked like a yacht to me). Leighton, the owner, was kind enough to fill us with wine and take us out for a spin. This thing had 1,430 horse-power. We were used to riding just one. Needless to say, it went like a bullet and took our breath away, quite literally. And Shan got to drive it. Lucky cow. Shan also laid some sunflowers (Justin's favourites) into the sea, but no tears were shed on this trip. We laughed a lot, and Shan needed it. Leighton, Michael, you're both stars.
On then to the Dylan Thomas Centre for the evening's entertainment, the Twin Town script read-through by most of the members of the original cast. The attendance was strong, much money was raised for the cause, and in the humble opinion of this blogger and everyone with whom he spoke, it was funnier than watching the film itself. Wales' finest actors had given freely of their time, and it was brilliant.
The busiest day off we've ever had, and undoubtedly the best.
To see pictures of our 18th day's adventure, click here
Day 19 - 12/09/08
We woke in high spirits after a great night in the Dylan Thomas Centre, albeit very late. The weather, too, had at last decided to smile upon us, and offer some semblance of a much overdue indian summer. We rushed up to Cae Newydd, aware that we had an 11:30am deadline to meet at Morriston Hospital. We went like the wind, and were almost on schedule, when Val insisted that we come into the house for a quick cuppa before departing. We should have guessed. There was another banquet, and a house full of well-wishers. Fantastic. Val and her friends had been up since 7am preparing the food, and they were kind enough to let us take doggy-bags for our lunchtime stop. Then, our departure already 20 mins overdue, the port and sherry came out. It was mid morning, but hey, who were we to refuse such generous hospitality? The welcome here has been second to none, and we will never forget the kindness of all at Cae Newydd (Brychan and Chris were especially delighted that Val insisted they take the port and sherry bottles with them). We bade them a very fond farewell, and it was very difficult to leave.
We arrived at Morriston, half an hour late, to a warm crowd of well-wishers and press, and also to the return of Esmor Davies, our talisman from the north-walian leg of our trip. It was great to see him, and to hear that he was staying with us to the end.
On then to Lon Las School, where the horses entertained the enthusiastic kids with cuteness and poo. The school, in return, entertained us with very tasty scones. Lovely.
Our lunctime stop was at Tir y Mynydd Farm, Birchgrove, home of Howard Walters, whose shed (which he apparently built for the price of a bottle of whisky) sheltered us from an hour of heavy rain. Thank you Howard.
Howard's daughter Mari then guided us down into Neath, where she handed over to Gerald, who helped us through the very busy main roads to our stables at the Cimla Equestrian Centre. Great stables, and a warm welcome. We ate at T-Bone's restaurant, a part of the Equestrian Centre, where this blogger enjoyed the best steak he's ever eaten this side of the Atlantic.
We humans dispersed to separate accommodation at the Castle Hotel, Neath, and at Cwmbach Cottages. Both were lovely
To see pictures of our 19th day's adventure, click here
Day 20 - 13/09/08
It was a beautiful morning up at Cimla Equestrian Centre. Our duty farrier for south Wales, Chris Brooks, had already been up at very short notice to tend to Felix, who threw a shoe at the end of the ride yesterday. Thanks Chris.
The horses were well rested and eager for the day's work. It's obvious from this trip that they thrive on it. They're fit now, and will happily bounce along for 25 miles on a daily basis. All this work also sharpens their appetites - they're eating an enormous amount of hot food (competition mix, the kind of stuff that gives them lots of energy), four times a day, and virtually biting our hands off every time. These are now well-oiled machines, not far from being race fit.
Our guide for the day was John Green, whose local knowledge was extensive. We were also joined by friends Mary, Avis & Karen. The aqueduct and viaduct at Pontrhydyfen proved to be another trial for Brychan's vertigo, so we made a quick call at the Miners pub for him to recover. This was a lovely ride, beautiful countryside - after the heavy road work of the last few days, it was very welcome.
Coming down then towards Margam Park, we caught our first view of home, down towards the coast. We had mixed feelings, it must be said - it'd be great to be home, but we didn't really want the journey to end. Our little gang has become tightly knit, and when a horse has carried you this far safely and without complaint, you really do bond with it.
Down then through lovely Margam Park, where we encountered a caravan rally. Brychan & Chris thought that this sounded like great fun, but apparently they don't race them around the forest. Nevertheless, they contributed generously.
The welcome at Huw Thomas' excellent stables was warm, as was the evening sun, so we turned the horses out for some well earned grazing. It will be a big day for them tomorrow.
We humans retired to the Rose & Crown in Porthcawl, to contemplate the imminent end of our journey, and to dream of longer ones for the future
To see pictures of our 20th day's adventure, click here
Day 21 - 14/09/08
This was it, the last day. We were up early, and found the horses dozing in the morning sun up at Huw Thomas' farm. As they have been throughout the journey, they were very happy to be caught and brought in. The gang is so tightly knit that as soon as one is brought in, the others wait by the gate seemingly crying "Catch me next!". Caio and Sox are traditionally difficult to catch, but this hasn't been an issue at all on this trip. Capten though, saw us coming and couldn't resist one last roll in the mud before his capture, much to the consternation of Sian Jones (see photos). Huw Thomas mucked in with the cleaning effort, which is typical of how great our welcome here has been. We had clean and dry numnahs (saddle cloths) for today's ride, which has been somewhat of a rarity. Thanks to all at the farm.
We arrived on time at The Tap in Pyle for the meet. Our hopes were high that the lovely weather would bring many riders out to join us, but we were astonished by the number of horses which greeted us - 110 in all! This of course included many of our friends - this was our patch after all - and we set off in the company of the Llangeinor Hunt, through David Brace's land (also a generous contributor to the cause - thank you David) and down to Scare Beach.
Today was a great ride. The horses, as you'd expect in a crowd of 110, were very excited. Add to that the fact that our horses now knew exactly where they were, and that they were only a few miles from home, we knew we were in for a bumpy ride.
The horses of course have known that they were getting close to home for days now. They could smell the sea, and the terrain became familiar to them. Horses always seem to know the way home, and we've seen a marked sharpness in them over the last few days.
We stopped off for a drink at the Jolly Sailor in Newton village, which is something that we often do when riding. It was lovely to be back, though we now knew that this was the last leg - from the Jolly Sailor back to the stables at Ogmore Farm.
The ride back was fast. The horses had lost their patience, and wanted to get home. Much fun was had by all. And then what a welcome! We were greeted by two mounted policewomen at the river, who had very kindly agreed to lead us up the road to our finish line at The Pelican pub, across the road from the stables. There was a large and very warm crowd of family, friends and well-wishers awaiting us, and the welcome was overwhelming. We were home, and though I think we all felt sad that it was over (I know I did), it was great to be back. The Bridgend Male Voice Choir sang superbly (John Barrie our support vehicle driver is a member), The Pelican had prepared cawl, and everyone was happy to see us back.
So it's over. The horses have been amazing. We'd heard lots of concerns from lots of horse 'experts' beforehand about them not being fit enough, and about thoroughbreds not being sturdy enough for a journey of this magnitude. Robert Williams however, king of the castle at Ogmore Farm, has, as always, turned out to be exactly right. He said that the first week of the journey itself would be enough to get the horses fit, and that if we could get them through that, they'd thrive on the daily work and go on forever. There's no doubt that this journey has brought us much closer to our horses. It's been a joy to actually have time to spend with them and look after them properly.
Sandy, Sian Jones' mare, who we lost in week 2, is recuperating nicely and will be fine. Ben, Branwen's horse, recovered sufficiently from his injury to complete the journey without any further problems. Steffan Rhodri and Sox have vowed to carry on seeing each other, and that this was much more than just a holiday romance. Felix's ears are still pointing backwards, Caio continues to demand Shan Cothi's attention or else, and Capten will return to his shepherding role in mid Wales.
As a footnote, Chris and Otis the camera horse have parted company at the end of the ride. For reasons too dull to go into, it's been planned for months that this would be their swansong together, and although Chris, traditionally hard-nosed about this sort of thing, tried to put a brave face on it, it turned out to be the hardest thing he's ever had to do, and he cried like a baby.
To try to thank everyone who's helped us would be a futile gesture on a lowly blog such as this, but please read the acknowledgements at the bottom of the page - it's not much, but it's our way of giving something back. The generosity and humanity we've encountered, before and during our journey, has brought joy to us all, and especially to Shan. We've experienced something amazing, made lots of friends along the way, but most importantly, we've raised lots of money for Amser Justin Time. That's the bottom line. This trip is just the beginning of a much wider journey for Shan and the charity, and you can bet your arse we'll be hassling you for more money in the near future.
Mae'r cofnod dyddiol yma yn anrheg arbennig i Justin a ti, Shani fach x
To see pictures of our 21st and final day's adventure (and there are lots), clickhere
Acknowledgements
We would like to express our heartfelt gratitude to the following people and organizations for their great generosity in helping to make this event possible:
Cotts Farm Equine Clinic Ltd  www.cottsequine.co.uk
Graham S Fowke MA Vet MB MRCVS
Geraint Jones 4x4 - Caerfyrddin
 
NFU Mutual
Zenith Media  
Ebony & Ivory Catering
Red Mills Horse Feed
Cardiff Embroidery
Cardiff Sports Gear
Olew Trefigin Oil 
Ifor Williams Trailers Ltd
Elin Rees - Cwmni Telesgôp
Stuart Edwards - Glamorgan Farm Supplies Ltd, Bridgend
David Brace
Cameo Club
Fifth Dimension Kitchens
Elite Vehicle Services
Creative Casting
Huw R Thomas, qualified saddle fitter; 35 Commercial St, Kenfig Hill,
Bridgend  Tel: (01656) 740 391
Mr Producer
Wedi 7
Red Lion, Llangadog    www.redlioncoachinginn.co.uk
The Hand, Llanarmon
Black Lion, Pontrhydfendigaid    www.blacklionhotel.co.uk 
The Golden Well Restaurant
Gwyn Williams, Tristar
Commercial Radio Solutions, Cardiff
Robert Williams and all at Ogmore Farm Stables
Rachel Corbett - Bsc Hons Ost, D.O. / Dip. Vet. Ost.
Equine Osteopath
Tel: 07970 408 542
Bridlewood Equestrian Centre, Tel: 01745 888 922
BHS - British Horse Society
Wales on Horseback
Cwrt y Cadno Hunt
Llangeinor Hunt 
DUTY FARRIERS
Chris Brooks
Eirian Morgan
Jim Blurton
Back