News Title
Cwrt y Cadno Hunt raise over £3,500 for Amser Justin Time!
Cothi & Caio & Cwrt y Cadno Fun Ride!
August 17th 2014
The first Cothi & Caio Fun Ride Ogmore 2013 was such an overwhelming success that people were already asking  when the next one would be.  I was slightly hesitant to commit and have always been wary of asking the same people to support and donate as there are so many other charities out there.
However, the timing was perfect as Cwrt y Cadno Hunt were looking to do a charity Fun Ride in the summer. Our very first horse ride from North to South Wales had ridden through Ffarmers back in 2008 and Ffarmers of course is my home village therefore, Shan and Caio would be coming home!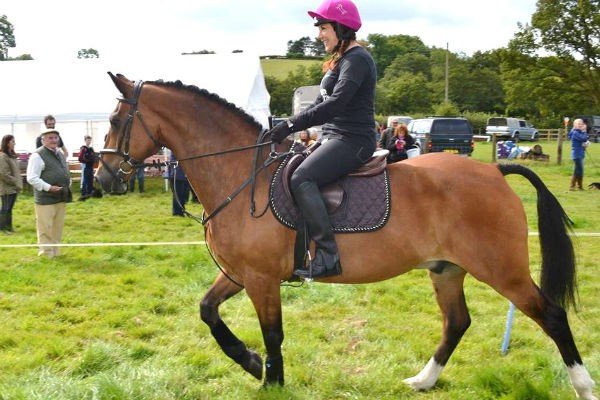 There are so many people to thank.
Anthony Frost (Cwrt y Cadno Master of Hunt) was my main port of call having known Anthony for years and we liaised for weeks to get everything sorted. His team worked so hard to recce the stunning route over Mynydd Mallan over to Cwrt y Cadno and back to Ffarmers.
The weather was perfect for horseriding, not too hot and not too cold so we were off to a grand start. This was a spectacular ride and yes your horse needed to be fit for the 12 mile ride (which was more like 16!) as some of the terrain was steep and testing but so worth it for the incredible views. There was also a shorter 6 mile route for riders and horses that didn't want to tackle Mynydd Mallan and that was also well supported.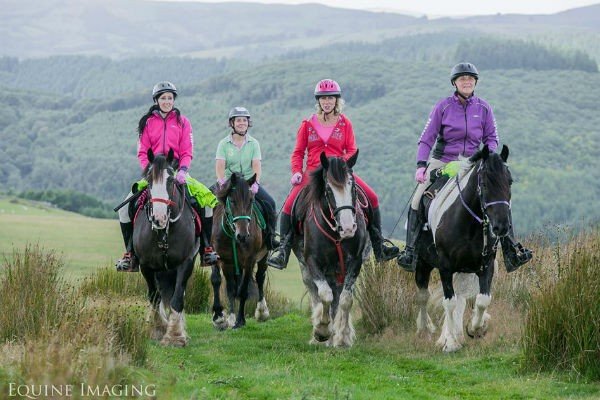 Amser Justin Time would like to thank all the farmers who gave us special permission to cross their land as without their support this would not have been possible.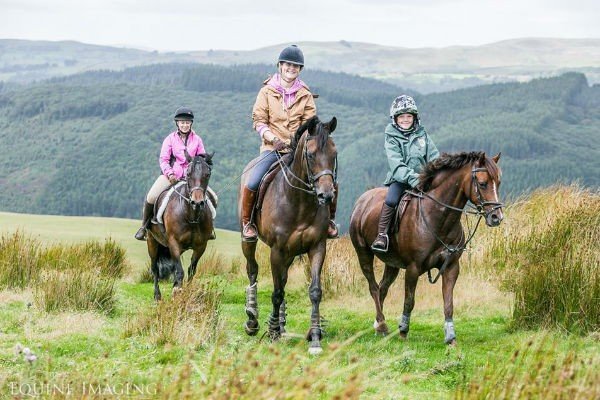 Special thanks to Nina Davies, Roy and family from Llwyn Rhos Farm who worked so hard on the route directions and signs. There wasn't a stone unturned and even in the most remote of areas – you couldn't possibly have taken a wrong turning thanks to Nina's idiot proof signage! They also kindly provided their land as a wonderful starting point for the ride, with plenty of room to park the lorries and trailers and for the horses to be tacked and warmed up.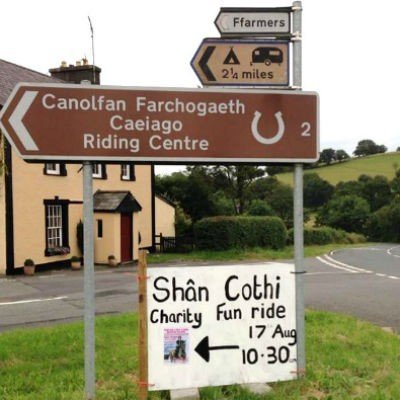 Caio was spoilt and had special treatment as Nina put out the red carpet and provided a special stable for the day. Diolch NINA!! Caio loved it!
The Marquee was provided by Alun Nantyrast and had been taken down and erected the night before from Cwrt y Cadno Show who had also kindly donated to Amser Justin Time. Thanks to all the hardworking helpers and supporters of the Hunt who worked tirelessly to prepare everything for the day. Raffle prizes were brought, hogroast, cakes, tea and pop flowed all day and it was great to see so many people from the village supporting the day especially the elderly, who were enjoying the spectacle of seeing so many horses!
We were overwhelmed with the turnout. An amazing total of 93 horses completed the ride on the day and each one came back safe and sound.  I was gobsmacked as this is remote area and was worried that we wouldn't have the same turnout as Ogmore. Riders came from all over, from the other side of Cardiff to Carmarthen, from Aberaeron to Cilycwm. I was thrilled with the support and can't thank you enough. Diolch o galon am gefnogi.
Special thanks to Terry James and Max and Beth and Sam who brought a second horse (Max) up from the other side of Cardiff for me to complete the ride. Caio was still nursing an earlier injury so I needed to swop horses early on and Max, a beautiful Andalusian cross grey provided me with the perfect ride. Diolch Terry a Max. I had a wonderful team once again.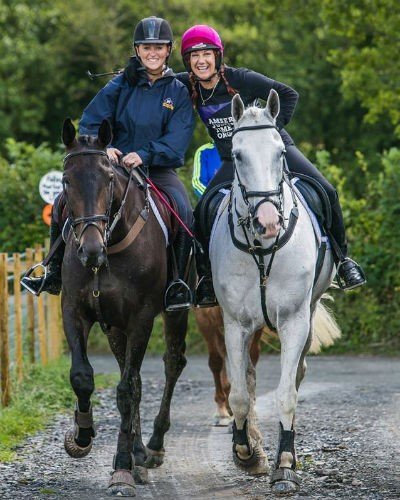 To see a video of all the riders setting off please click here.
Yet another successful  event  for Amser Justin Time and everyone went home happy complete with a Cothi & Caio Run Ride Amser Justin Time grand rosette! 
Special thanks once again to Sian Lewis Equine Imaging for her stunning photography from the day's events. For more pics go to Sian's website page or use this direct link to the complete gallery.
Diolch Helfa Cwrt y Cadno! xx
For a video message of thanks from Caio and myself on the day please click here
Back