News Title
Pancreatic cancer Charity Amser Justin Time, founded in 2008 by Welsh Soprano and TV and Radio personality Shân Cothi has made a landmark donation in the fight against Pancreatic Cancer.
The six-figure sum will be paid over a period of two years to fund the work of a pancreatic cancer research associate at Cardiff University's European Cancer Stem Cell Research Institute.


Shân Cothi said of the donation: "It's a privilege to be able to donate a six figure sum in Justin's name to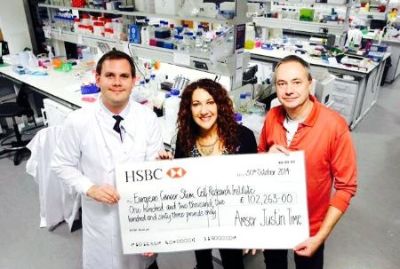 further the research into pancreatic cancer. Pancreatic cancer has one of the lowest survival rates as a result of underfunding and lack of research. Hopefully our donation will make a difference." Shân lost her husband to pancreatic cancer in 2007 and as a result of her loss and her passion to fight the disease, she set up the charity in his name ('Amser' = 'Time' in Welsh).  Shân continued "We have been trying to identify a project aimed specifically at pancreatic cancer for some time and were thrilled when the opportunity arose to work in partnership with Cardiff University.  It's the lack of pancreatic cancer research and development that inspired the birth of Amser Justin Time."
One hundred percent of the money will be donated to the European Cancer Stem Cell Research Institute, which is a part of Cardiff University. The funding boost will contribute to securing the future of this fundamental research by further funding the work of a pancreatic cancer research associate Dr Sean Porazinski. The Amser Justin Time donation is the largest donation received by the Institute, specifically for research into pancreatic cancer.
Dr Porazinski conducts his research within the European Cancer Stem Cell Research Institute, working under Research Fellow Dr Catherine Hogan. Dr Hogan said: "Dr Porazinski's previous funding arrangement was coming to an end when we received the donation from Amser Justin Time, so it was very timely. Dr Porazinski has spent the last year establishing a new experimental system in the lab in order to study early pancreatic cancer. This donation allows us to extend Dr Porazinski's contract and build on his recent work to develop this project further. We hope that this work will make a significant contribution to our understanding of how pancreatic cancer starts, which in turn may lead to new diagnostic tools."
The European Cancer Stem Cell Research Institute was set up in 2012 and since then has attracted the highest calibre of researchers. There are over 50 scientists in the Cardiff-based laboratory – all with a common goal and belief – that cancer stem cell are responsible for the regrowth and spread of cancerous tumours. Their research is built around the idea that if you target the cancer stem cell specifically, then there is a better chance of stopping the cancer. "Of course, it is not quite as simple as that," saidProfessor Alan Clarke, Director of the European Cancer Stem Cell Research Institute. "We have found that cancer stem cells have the ability to change and develop into other types of cells, so work is continuing on a more holistic approach with ten different research teams focusing in on different cancers from breast and bowel to those of the brain and the blood."
Professor Clarke continued: "Pancreatic cancer currently has one of the lowest five-year survival rates in Europe. It is incredibly difficult to diagnose until it is almost too late for the patient. We are determined to help change this and we rely on donations such as those from Amser Justin Time. It is an honour to receive this substantial donation, especially from a charity local to the Institute."
Recipient of the donation, Dr Porazinski, is delighted to be able to continue his research at the Institute, thanks to the additional funding provided by Amser Justin Time. "As one of the most aggressive forms of the disease, working with pancreatic cancer is a great challenge and one I'm thrilled to be able to continue with here in Cardiff. Ultimately, our aim is to contribute to establishing much earlier diagnosis of pancreatic cancer and to look for ways to develop new therapies to directly benefit patients with this condition."
Shân wanted to give a special message to the supporters of Amser Justin Time:
 "I cannot thank you enough and without your help, support and encouragement over the last six years none of this would have been possible. Our journey continues and I hope your support will remain with us. Therefore, please keep running those marathons, riding those horses and climbing those big mountains, together we can make a difference!"
Shân continued with a message to the recipients of the funds:
"On behalf of all at Amser Justin Time and those that have given so generously I wish Dr Sean Porazinski and Dr Hogan all the very best with their work and we look forward to learning more about the progression of the pioneering stem cell cancer research."
Please follow:  @amserjustintime  @cancerstemcell  #amserbeatscancer
The Donation:
The total donation from Amser Justin Time to The European Cancer Stem CellResearch Institute (Cardiff University) over a period of 2 years:
£102,263.00
About The European Cancer Stem Cell Research Institute
www.cardiff.ac.uk/research/cancer-stem-cell
Cancer remains one of the major challenges in terms of life expectancy and is the second largest cause of death in the UK.  Although five-year survival rates for many cancers are slowly improving, there are still no effective therapies that can treat all tumour types and the processes underlying resistance to therapy and tumour relapse are still poorly understood.
Furthermore, for some tumours (such as those of the pancreas), the understanding of how to treat patients is so woeful that they are currently virtually untreatable. As such there are a plethora of unmet clinical needs relating to better cancer diagnosis and treatment.
The European Cancer Stem Cell Research Institute at Cardiff University has a very specific approach, focusing on the concept of the 'Cancer Stem Cell'. It is recognised as an internationally renowned Centre of Research Excellence, which will change the cancer landscape in terms of both basic research and novel therapy development for a range of cancer types during the next decade.
The Institute remains the only one in Europe completely focussed on cancer stem cell research. As a charity itself, it relies on donations and other sources of funding and unlike some other charities, 100 percent of all donations go directly to fund work in its laboratory.
About the staff at the institute
Director – Professor Alan Clarke
Professor Clarke is the Director of the Institute and also Director of the Cardiff Cancer Research UK Centre. His main interest is in the molecular basis of cancer, particularly in the very early stages when cells initially diverge from normality. His research team has expertise in modelling intestinal, breast and prostate tumours and the ability to use these to study the relationship between normal stem cells and cancer stem cells.

Research Fellow – Dr Catherine Hogan
In the early stages of many human cancers, single cells sporadically acquire genetic mutations and become transformed. Dr Hogan's research focuses on understanding how transformed cells expand within otherwise normal tissue to form precursor lesions despite an environment of tightly regulated growth control and homeostasis. Such events remain poorly understood. She is particularly interested in the initial stages of human epithelial cancers where Ras mutations are one of the earliest events, such as in pancreatic cancer.

Research Associate – Dr Sean Porazinski
Dr Porazinski's research aims to understand how pancreatic cancer cells behave and interact with normal cells during pancreatic cancer initiation. He aims to identify weaknesses in the mode of action of pancreatic cancer cells for the development of targeted preventatives. His work also aims to contribute to establishing much earlier diagnosis of pancreatic cancer.
 
About Pancreatic Cancer
The pancreas is a large gland situated deep in the abdomen (tummy) in between the stomach and the spine. Pancreatic cancer occurs when abnormal cells in the pancreas grow out of control, forming a mass of tissue called a tumour. It can occur in the head, body or tail regions of the pancreas. Pancreatic cancers are divided into two main groups - exocrine and endocrine tumours. Within these two main groups there are different types of pancreatic cancer. However, the most important distinction is between exocrine and endocrine tumours. This is because they produce different symptoms, are diagnosed using different tests and are treated differently. Pancreatic cancer doesn't usually give rise to any symptoms or signs in the early stages. This is the main reason why it can be so difficult to detect and diagnose. As the cancer grows the symptoms it causes will depend on the type of pancreatic cancer and where it is in the pancreas. Any symptoms people do have can be quite vague and may come and go at first. An example is abdominal pain, which may start off as occasional discomfort before becoming more painful and more frequent. The symptoms can also be a sign of other more common illnesses such as pancreatitis, gastritis, gallstones or hepatitis. This means that people may end up seeing their GP several times or being sent for a number of different tests before pancreatic cancer is even considered. (It is important to remember that any of the symptoms described here are common for lots of illnesses and may not be a sign of pancreatic cancer.)
 
Most common symptoms:-
Abdominal pain
Pain is a symptom in about 70% of pancreatic cancer cases
 
Jaundice
Jaundice occurs in about 50% of pancreatic cancer cases
 
Weightloss
Losing a lot of weight for no particular reason can be a sign that something is wrong. People may also notice a loss of appetite or changes in what they feel like eating.
(Courtesy of Pancreatic Cancer UK)
 
Pancreatic cancer statistics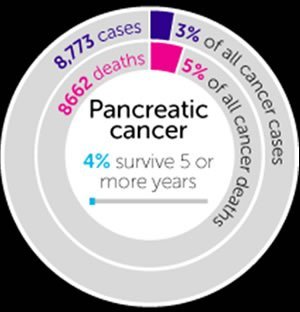 8,773 people in the UK were diagnosed with pancreatic cancer in 2011
There were 8,662 deaths from pancreatic cancer in the UK in 2012
3.7% of adult pancreatic cancer patients (3.6% of men and 3.8% of women) in England survived their cancer for five years or more in 2005-2009
(Statistics courtesy of Cancer Research UK)
.
Back