News Title
'Ail Gyfle' £1250 cheque to AJT!
Pembrey 'Ail Gyfle' (Second Chance) Charity Dinner
Friday Dec 5th 2014
Following our re-launch on Oct 30th in the Hadyn Ellis Building where Amser Justin Time presented a cheque of £102,216 to fund the Pancreatic Cancer Research Fellowship of Dr Sean Porazinsky and Professor Alan Clarke we have had a fantastic response from the public and numerous requests for Shan Cothi or representatives of AJT to collect further cheques and donations!
On Friday Dec 5th Shan was invited by Cymdeithas Ail Gyfle (Second Chance Society) from Mynydd y Garreg to attend a special charity dinner at Ashburnham Hotel, Pembrey as a guest speaker to celebrate ten incredible years of fundraising.
'Ail Gyfle' is a small, hardworking group of people who have been fundraising enthusiastically and supporting local charities in the area. A total of £55,000 has been raised over the last ten years and this was definitely worth celebrating.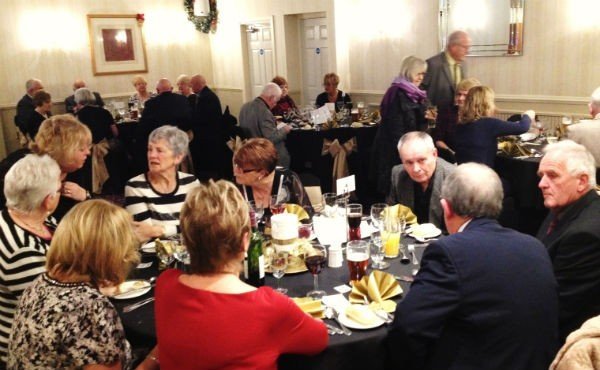 Huw Edwards (BBC News) had been invited as the original guest speaker as he was from the locality and had connections with the society but was unable to attend due to work commitments. Huw also sadly lost his father Hywel Teifi Edwards to pancreatic cancer. 
After a passionate phone call from Chairman Mansel Thomas, Shan kindly stepped in as this year's guest speaker and  'Ail Gyfle' generously donated £1250 to Amser Justin Time to support our research into pancreatic cancer in the Hadyn Ellis Building.
Shan was thrilled to accept the cheque on AJT's behalf.
The evening was led by Mansel who kept the audience on their toes with his energy and enthusiasm and conducted the auction with great humour.
Following a lovely meal, Shan spoke passionately about AJT's history and the work of the charity touching on our recent donation to fund the HEB research into pancreatic cancer and the importance of our fundraising efforts. The audience were enthralled and glued to Shan's passionate words and hugely appreciated her heartfelt presentation.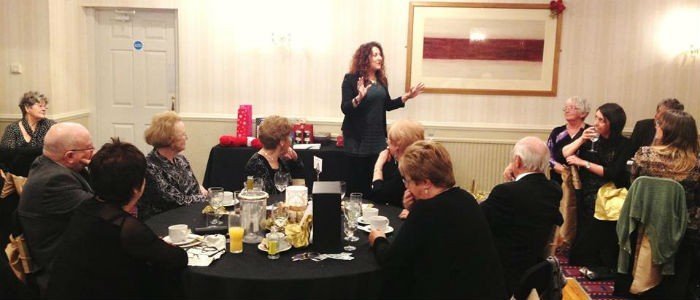 Shan was then spontaneously asked to sing by Mansel who swiftly became a target for her rendition of 'La Vie en Rose' much to the audience's delight. Mansel was a complete natural and enjoyed every second!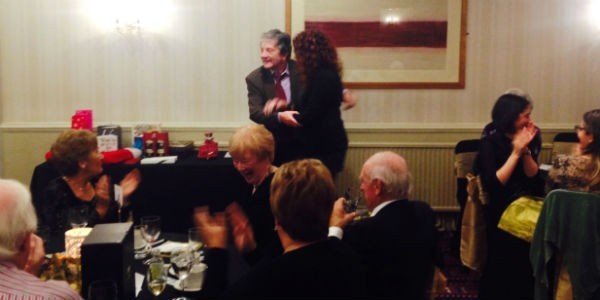 AJT supporter Big Dai Watkins also attended the Charity Dinner and was a big hit with the quiz prize winners!
It was a wonderful evening amongst friends and supporters of AJT.

Peggy 'Hen Fenyw Fach Cidweli' a David Gravell yn rhoi croeso i Shan! 
Diolch o galon Cymdeithas 'Ail Gyfle' am y croeso twymgalon a'r cyfeillgarwch.
Pob lwc I chi da'r gwaith da.
A big thank you to Cymdeithas 'Ail Gyfle' for a wonderful welcome and for your generous donation and fabulous support.
Back