News Title
The Ladies of Garnant Golf Club Raise £2,000 for AJT
After losing their much loved club member, past captain and friend Christine Jones to pancreatic cancer last October after a very short illness, the ladies of Garnant Golf Club raised £2,000 for Amser Justin Time
On Sunday 25th January, Shan was invited to collect a cheque for £2,000 which the lady members of Garnant Golf Club, Brynamman had raised in memory of friend and past club captain Christine Jones. The evening was clearly a very emotional affair for the ladies with a few tears shed as Shan relayed her own personal experience of pancreatic cancer and how she had come to terms with losing someone special herself.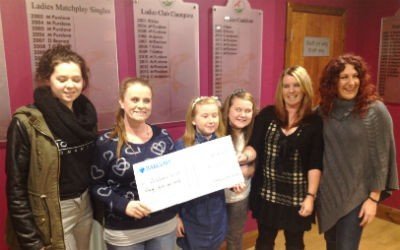 Christine's family were on hand to present Shan with the cheque.
Shan would like to thank Rhian Moses, Garnant Golf Club and the ladies for such a warm, heart felt welcome. They really are an amazing group of women, several of whom have lost partners to cancer and illness in varying forms. This did not stop their vibrant humour from shining through! For anyone living locally to Ammanford and Brynamman looking for a hobby/past time, we can highly recommend visiting the ladies of Garnant Golf Club! You can be assured lots of fun and laughter and if rumours are to be believed, the best cooked breakfast in South Wales on a Saturday morning!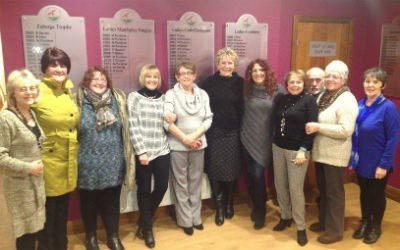 Christine's friends and a wonderful bunch of golfing ladies! Such a warm, fun-filled welcome and an invitation to return later in the year for a round of golf and a possible fund raising concert in the clubhouse! Watch this space...!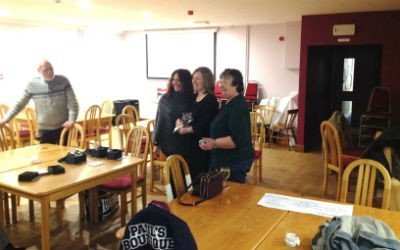 Shan was asked to present the season lady prizes before receiving the cheque for £2,000
Llongyfarchiadau mawr i fenywod Clwb Golff Garnant am ei cyfraniad hael ag i holl aelodau'r clwb am lwyddo i gadw'r sefydliad a'r gymdeithas yn fyw.  Diolch o galon am y croeso bendigedig a phob dymuniad da i'r dyfodol! 
A Good News Story!
Garnant Golf Club was facing closure 12 months ago but the members had other plans. They pulled together and bought the club back and through some careful financial management have managed to keep the club open with over 200 gentlemen members and 17 lady members. Last year the story made the Golfers Monthly magazine. 
Great work guys and ladies! Garnant Golf Club is far too special to lose!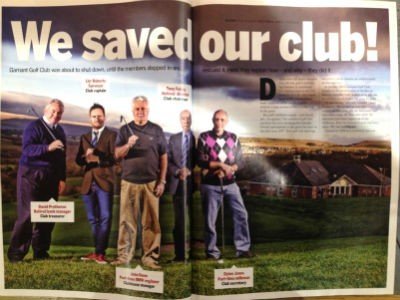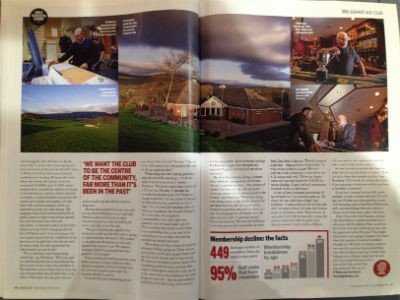 For more information about Garnant Golf Course, please see their website here
Back