News Title
AJT RECORD DONATION evening at the Hadyn Ellis Building, Cardiff
On 30th October 2014 Amser Justin Time  announced some wonderful news by making the largest private donation of £102,263 towards Pancreatic Cancer research in the UK! The evening was attended by a number of invited guests and AJT supporters and proved to be a huge success.
After 6 years of fund raising and having finally identified a project that would make best use of AJT funds, Shan Cothi decided to use the opportunity to re-launch Amser Justin Time and hold an event at the Hadyn Ellis Building in Cardiff. All those who have kindly donated to AJT over the years were invited.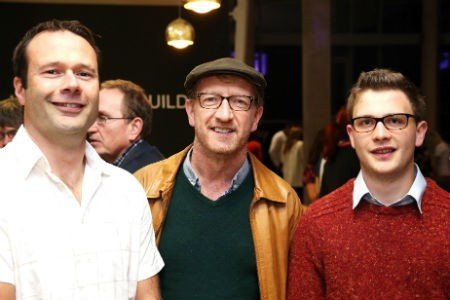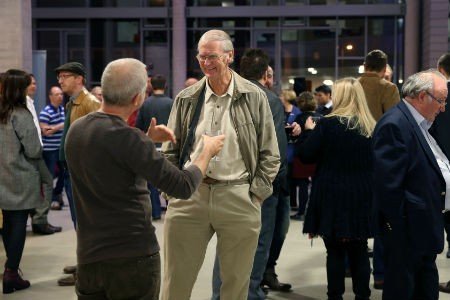 Guests included Gavin and Stacy actor Steffan Rhodri and former Wales and British Lions winger Stuart Watkins who sadly lost his wife Babs to Pancreatic Cancer in 2013
Guests were welcomed by Shan Cothi, her AJT team and some of the staff in the foyer of the research centre of excellence between 6pm and 7pm. Canapes and a glass of wine or a soft drink were on hand. 
At 7pm the guests were invited into one of the lecture theatres where they were officially welcomed by Mr Producer and event organiser, Stifyn Parri.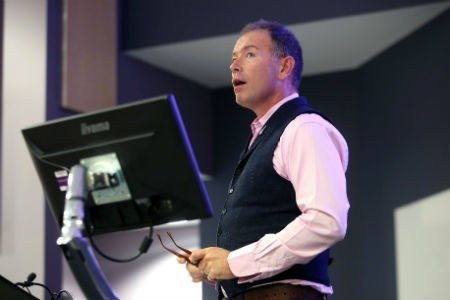 Mr Producer - Stifyn Parri
Using his unique humour and natural ability to capture an audience, Stifyn said a few words before inviting Shan to take the stand and address those that had supported her and AJT over the last 6 years. It soon became clear to everyone just how much this moment meant to Shan. In a very impassioned, emotional speech and having to pause and take a breath at times, Shan reflected on the last 8 years of her life and her and Justin's story and thanked all those who had stood by her and supported AJT. Without their support, the evening simply would not have been possible.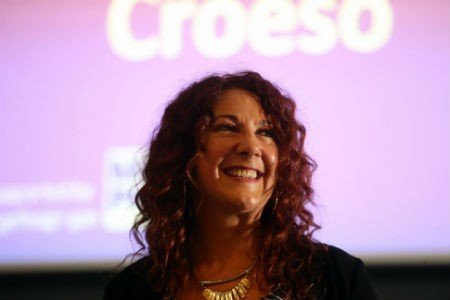 Shan Cothi
Shan then introduced Professor Alan Clarke, the Director of Research at the Hadyn Ellis Building. Dr Clarke soon had the full attention of the guests, providing them with a simplified but very detailed presentation on the different cancers, cancer stem cells, the research and what the future might hold in terms of achieving improved and more effective medication or even a potential cure. For more information about the science of pancreatic cancer and the stem cell research and how the Centre plan to spend the money, please clicker here.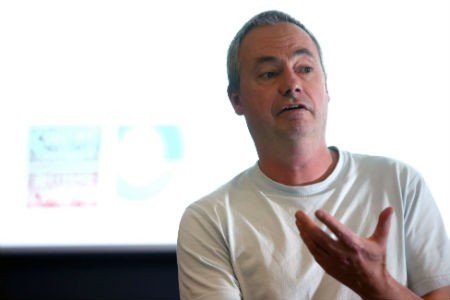 Professor Alan Clarke
Following Professor Clarke's enthralling presentation, Dr Porazinski took the opportunity to talk about the research he had been conducting over the last 2 years and the importance of this donation for the continuation of his work. Without AJT's input, all of Dr Porazinski's efforts over the last 2 years would have been in vain. This donation now means he can continue his research for a further 2 years but it is anticipated that a further 4 years research is required to potentially find a cure. AJT has set itself a goal to make a further donation in 2 years time to ensure this happens.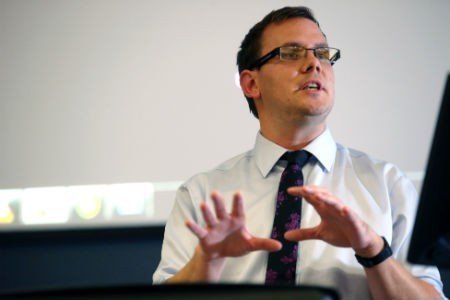 Dr Porazinski
Stifyn Parri closed the evening with further words of thanks before the official cheque presentation and a photo opportunity for the guests.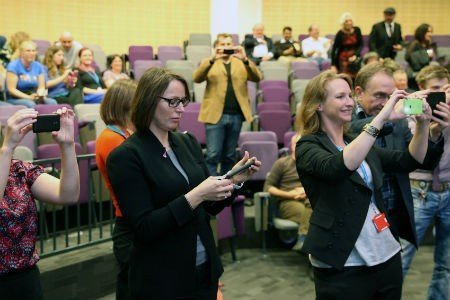 Guests getting a quick photo of the cheque presentation
Professor Clarke and Dr Porazinski then very kindly took a number of guests around the laboratories, giving them a unique insight into the work carried out within the European centre of excellence.
The evening was marked as a huge success and the level of gratitude from the staff at the Hadyn Ellis Building was clear to see. AJT will be working closely with Professor Alan Clarke and his team over the next few years. Who knows, we might just be that small piece that made a big difference...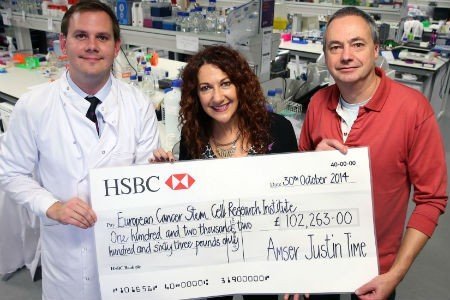 Shan Cothi presenting Professor Alan Clarke and Dr Porazinski with the cheque for £102,263
For more pictures of the evening please see our Facebook Page album here.
Back